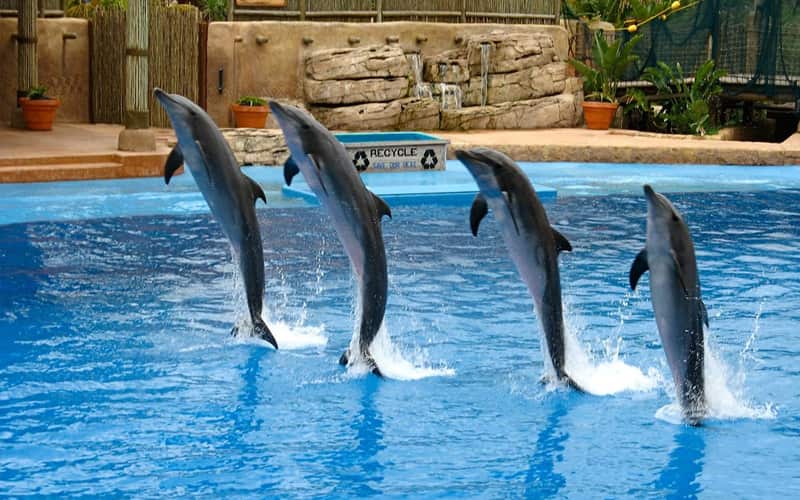 Dubai Dolphinarium is the first fully air-conditioned indoor dolphinarium in the Middle East, providing a wonderful habitat to dolphins and seals. This experience is open to the public to watch and interact with these highly intelligent mammals. Located at Bur Dubai near the Children's City, the Dubai Dolphinarium was opened to the public in May 2008.
This ultra modern facility spread across a sprawling 54,000 sq. ft. the marine facility includes various fun activities such as a kids corner, Arabesque Dance School, and a mini 5D cinema theatre. Dolphins are the most lovable, friendly and intelligent creatures and their relationship with human beings has been known for a long time. Get a chance to interact with these docile creatures at the poolside or undertake a deep water adventure with your new best friend.
Dolphin Meet & Greet
This experience has been specially crafted for those who are not very comfortable in the water but would still love a close encounter with a Dolphin. Get a chance to hug, kiss and even dance with the dolphins without even entering the water. This activity is perfect for families with kids and non-swimmers.
Up Close & Personal:
Enjoy an up close & personal encounter with the wonderful dolphins. These shallow water interactions allow guests to interact with dolphins in their own habitat. The water level rises up till your knee and under trained supervision, you can have a safe and wonderful experience with these lovely creatures.
 Majestic Dolphin Swim:
This one of a kind experience that lets you get up close to the dolphins and allow them to impress you with their skill and charm. Get a once in a lifetime chance for a dorsal fin tow or a belly ride as well as being able to hug, kiss & dance. This experience is perfect for seasoned swimmers and adventure enthusiasts.